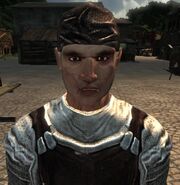 Refining materials in beta requires using the Processor. You can interact with him and then click Refine Material. Then right click the item in your inventory you would like to refine. Some items can be refined repeatedly. Stone and Carcasses can be refined, wood cannot. Processors look identical to most vendors and the Smith.
Example:
Cuprum -> Bron -> Tindremic Messing
Ad blocker interference detected!
Wikia is a free-to-use site that makes money from advertising. We have a modified experience for viewers using ad blockers

Wikia is not accessible if you've made further modifications. Remove the custom ad blocker rule(s) and the page will load as expected.